Continuing our explanation of affordable housing challenges in the area, here is are some more facts that will help put the current situation into perspective.
A monthly price of over $1,000 is the average rent cost in Washington Country, despite building contractors in Southern Utah staying busy with all sorts of projects. This is not cohesive with the dollar amount of $14.28 – the average per hour wage of Washington Country residents in 2017. And at the current rate, rent in St. George will continue to increase. Another stat to consider is that of our county's area median income: $59,600 (according to HUD). Being the average, this shows us that approximately half of local residents make less than this and many a lot less. Even residents who make between $45,000-50,000 per year would still be labeled as overburdened by HUD by their rent cost.
Throughout the nation, a 6.6% increase in rent prices was experienced in the year 2015. Then, in 2016, the increase was 7.2 percent. Between the years 2010 and 2016, more than 20,000 people moved to the St. George area. Knowing these facts, it is unfortunate to learn that during that time period there have only been two multi-family housing structures built by building contractors in Southern Utah. One was for student housing and the other subsidized housing for single seniors – structures that don't exactly solve any of the real affordable housing issues facing the area. What's also not encouraging is that average asking price of a home in Washington County is just over $370,000. That's a price that would not be considered affordable.
As you can see, a more diverse spectrum of housing options is desperately needed in the St. George area and the building contractors in Southern Utah must be utilized to solve the problem. Development services representatives in the county and other relevant decision-makers have stated that this process is easier said than done. Plans can be efficiently made but executing them is more complicated than people may think. The new student housing buildings at Dixie State University are certainly helpful, but they address only one particular and exclusive demographic: students. Any resident can't apply to live there. Near Riverside Dr., there is another structure being built by building contractors in Southern Utah in the form of a big apartment complex. There are also plans to build two more large apartment complexes near St. George's historic downtown area. These three structures will provide more than 700 new available places for people to rent. In addition to those already mentioned, the new Dinosaur Crossing area at the base of Mall Dr. is slated to include multi-family housing with more than 50 units total and will be built by building contractors in Southern Utah.
Though these new places will certainly relieve some of the problems associated with affordable housing in the area, more needs to be done. With the rapid population growth of St. George climbing every year, appropriate accommodations for all demographics must be provided. Some point fingers at certain hurdles that hinder the building of affordable, smaller homes as well as multi-unit rental structures. Some proposed culprits include individual neighborhood opposition and government impact fees. It's even been proposed to have a joint meeting – a summit of some kind – bringing together groups such as construction industries, real estate agents, building contractors in Southern Utah, and government leaders to work together in finding solutions to the affordable housing issues that are apparent in Washington County.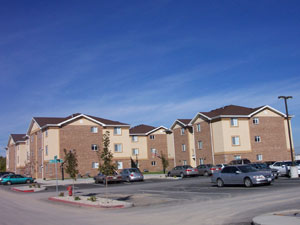 Article by Clear Content Marketing