Industrial Projects
Industrial projects are designed around clients' unique processes of material handling, production, warehousing and shipping. We understand when a manufacturing business pulls the trigger they want zero wasted time. Our single-source approach typically shaves over 25% off completion time. We provide technically efficient service; starting the process with site selectors and economic development through design and construction. For us, tackling these challenges represents an opportunity to produce a great experience for Watts and our clients.
…Back
Institutional Projects
Most local public projects use traditional delivery, with few exceptions. These projects usually take longer due to the material selection process and stronger oversight by a public entity and their architect. Unless the project is design-build or construction managed, then the role of the construction manager is largely to provide the lowest bid, follow orders, enforce the schedule and manage quality control. Watts likes to stay in these markets on a limited, case-by-case basis, because it helps us remain at the forefront of all types of project delivery, and affirms our competitiveness through all perspectives of the project and project types. But even in these cases, we strive to learn new things, develop new relationships, gain better data, and enhance client experience. We also look for and encourage more effective and efficient collaboration methods on these projects.
…Back
Senior Living
Watts has completed multiple assisted living centers, independent living centers, and nursing homes. These buildings share many of the same qualities as the hospitality industry, but with the additional complications of life safety requirements. These projects require experience and attention to detail, each one with varying degrees of institutional design and state oversight. Because of these special requirements, we have found there is little opportunity to use a design-build approach. We provide technically-efficient construction management services during any stage of design. There have been times when we have spent up to a year on pre-construction services. The projects we have completed have all been negotiated with clients partaking of the full spectrum of our construction management services. When the doors finally open to these beautiful and useful facilities we sit back and take pride in a job well done.
…Back
Commercial Projects
Watts isn't the only builder with experience in St. George commercial districts, but we have built more than any other locally-owned contractor. Established here since 1983, we're well-rooted both economically and historically. With Watts, developers get a crystal-clear picture of their costs, so designs can be done accordingly – no backpedaling to cut spending. We stick our necks out before spending begins, so adequate financing can be set – and met. Our vast experience has produced commercial construction techniques that help developers study potential sites, set proformas and save time. Watts can also take part in financing, ownership, and provide techniques for shell and tenant improved construction, etc.
…Back
Hospitality Projects
Construction management is an important resource for these projects. Execution of the franchise requirements, owner coordination and other items specific to this industry are paramount. We review the design, then work with the franchise and developer on providing customized spec documents for the open bid market. Watts provides these critical pre-construction services at little or no cost. Essentially, we are the final quality control stop before construction begins, working to reduce the inherent risk of repeated mistakes on multiple rooms. Higher level brands have more requirements, on-site inspections and checklists. However, regardless of the brand we take special care to coordinate and understand the requirements of both franchise and owner. This helps overcome the complexities of common areas and guest rooms.
…Back
- 2 adjacent campuses on 25+ acres
- 30+ projects and counting
- Rail served
Two Decades, Half a Million Square Feet
Genpak is a food-service packaging manufacturer located in Cedar City, Utah. We have been fortunate to work together on several Design Build projects over the last two decades, resulting in over half a million square feet built and occupied. Since 1993, our work with Genpak has naturally helped us gain an intimate understanding of their production processes and associated requirements. This has allowed us to support their company's growth over 25 years through projects and improvements.
[gallery size="full" class="hide" ids="53,54,55,36"]
…Back
- 235,000 sq.ft. on 20 acres
- 10 overhead cranes - 36 ton total capacity
- Underground water storage for production
Performance Under Pressure
Viracon's window manufacturing facility required both high-tech production areas and Class A office space. There was a non-completion penalty of $2,000 per day over schedule, along with an equal incentive for early delivery. Through our unique approach, we finished 23 days early, allowing Viracon to start production ahead of schedule. Even with a potential profit-killing deadline, this building received significant awards, including Project of the Year from ACI, plus Design Build Project and Intermountain Contractor's Project of the Year. "They were outstanding. It's a complicated manufacturing facility with a lot of complicated issues. They did an outstanding job understanding our needs...and were fabulous to work with." – Bill Wright, Viracon's VP of Operations.
[gallery size="full" class="hide" ids="9,1091,64,66"]
…Back
- 34,400 sq.ft.
- Flat floor requirements
- Added engineering, assembly, coating and production areas
Strong Collaboration Meets Precision Standards
This design build project was for RAM Company, a manufacturer of solenoids for aerospace products, tanks, missiles, jets and other applications. Production, engineering, large machinery and clean room areas were required, plus a special acid wash and coatings building. Of paramount importance was a technical flat floor design, where exactness was critical for build quality, and for continuing calibration of manufacturing equipment. Any imperfections, cracking, or movement in this floor would compromise RAM's processes. Specialists were brought in for consultation and observation. In the end, our collaboration with RAM was so successful that they came to us later on for an $11 million expansion.
[gallery class="hide" size="full" ids="73,74,71,72"]
…Back
- Double rail spur
- 8,000 amp electrical service
- Water storage and transport systems
Comprehensive Design & Low Cost Solutions
WL Plastics extrudes large diameter, high density polyethylene pipe. We worked with WL in Cedar City, Utah on their first expansion, which was their second US plant. Unique site requirements included a rail spur, along with extensive exterior outdoor storage. Since their process demands water-cooling, the facilities were laced with sloped trench drains, holding tanks, pump systems, and compressors. They also required massive power supply to run 6 extrusion lines, as well as cranes for loading and unloading. Since working with Watts on the Cedar City project, they have come back to us for three other design build projects located in Canada, South Dakota and West Texas.
[gallery size="large" class="hide" ids="78,281,1095,280"]
…Back
- 110,000 sq. ft. - 30 acres
- Myrtha pools shipped from Italy
- Public design build
Unforgettable Collaboration
The Washington City Community Center was a technically-challenging design-build, and is one of the state's largest community centers at 110,000 square feet. The pool areas feature translucent sliding roof panels and retractable door panels, coupled with state-of-the-art equipment and Myrtha pools from Italy. The interior consists of three full-size dual use gyms, aerobic rooms, and a running / walking track around the entire upper floor. In addition there is a snack bar, preschool, climbing wall, offices, lobby and a separate entrance to a 3,200 square foot reception hall. Outside there is a splash pad, sand volleyball court, playground, and barbecue areas. The WCCC received many awards, including Intermountain Contractor's Project of the Year. The best part, however, was the remarkable collaboration between the city manager, subcontractors, design consultants, and Watts. Our close relationship with this community exists in part because of this extraordinary project that will serve many generations to come.
[gallery size="full" class="hide" ids="277,83,85,84"]
…Back
- Café and retail
- Dance floors and rehearsal rooms
- Construction adjacent to stages and high school
Customer Converts to Savvy Construction Consumer
Tuacahn had been struggling for over a year to get a 19,000 square foot Art Center Building off the ground, largely due to financial considerations. Fundraising for a moving target is challenging, and typical public projects don't have a handle on the budget until after design and bidding. The real process began when Watts launched an intense lobbying campaign to use local builders. Persistence paid off, and Tuacahn presented us with the special opportunity to propose on their Art Center Building. Due to our experience and some creative thinking, we were able to save a substantial amount on the budget. Before completion of this project, Tuachan decided it was in their best interest to continue to work with us, and we became very involved with their operations, assisting them with various other projects. Most importantly, we were able to help them with budgets up front before they spent a dime. This helped them to move forward with fundraising based on solid information. The owner is now a cheerleader of our collaborative design-build process.
[gallery size="full" class="hide" ids="90,88,1069,89"]
…Back
- 14,438 sq. ft.
- Brick, precast and cut stone exteriors
- Holding cells, sally port and high security
Community Pride Conquers
The Washington City Police Station was a traditional bid project managed with maximum efficiency. Because this was the fourth project we had completed with Washington City, we had solid subcontractor support in favor of both Watts and the Washington City community and government. Major subcontractors and Watts felt compelled to make this possible as a matter of community pride. We were awarded the project giving them this special building at the lowest cost. Traditional projects like this one can present a unique set of challenges so Washington City was relieved to have Watts on board again. "Watts Construction is "Top Notch." Very professional and responsive to customer needs and questions. Thanks for a job well done." - Jim Keith, Chief of Police Also noteworthy is the design of this building which was a challenge that we were delighted to overcome. The police station needed to match the style of the surrounding historic structures, giving the impression that it had been there a long time. The visual results speak for themselves and are a matter of community pride for a building that serves the public.
[gallery size="full" class="hide" ids="98,97,100,99"]
…Back
- 26,450 sq. ft.
- 3 levels with basement
- Exterior finish reflective of historic downtown
Long-Standing Ties and a Watchful Eye
The Washington County Justice Center was one of the few public projects that came out soon after the crash of '07. Since this was another historic downtown location and located next to the courthouse, this project held high importance for Washington County. This was a difficult economic time, and the County was rightfully concerned over the condition of all the general contractors and subcontractors on the project. All parties involved understood that successful completion would be hard-earned, but well worth the effort. Adding further complexity, however, was the fact that this project unfolded during a recession, when budgets were of paramount concern. Of all the builders to bid on this project, Watts was the only one with strong ties to Washington County. Soon after we started, the County came to understand that Watts was a solid construction partner and an important part of the team. Because of our long-standing ties here, we were proud to have the opportunity to construct this beautiful building, and know that it will serve our friends and neighbors well for many years.
[gallery size="full" class="hide" ids="107,108,105,106"]
…Back
- 10.5 month duration
- 57,334 sq. ft.
- Repeat customer
Especially Stunning Design
The Retreat at Sunbrook is a negotiated, repeat client project. This project was unique not only because of its size, but because of the multiple amenities. Located next to a residential area with a golf course behind, this massive project blended in, yet turned heads because of the scale and colors that were incorporated in the design. This property also required many months of pre-construction services to take the wrinkles out of design, price test different methods of construction, and provide continual budget updates. The property includes an expansive garden area complete with putting greens, shuffleboard, bocce ball and more. The owners are especially proud of the impressive exterior of this senior living center, which includes a large water feature out front and over 100 beautiful Romanesque columns. The Retreat at Sunbrook draws the attention of potential residents and on-lookers alike with its expansive entrances and high-end interior design.
[gallery size="full" ids="123,122,120,121"]
…Back
- 260,000+ sq. ft. - all projects
- 12 month duration average
- Repeat customer
A Deeply-Forged Trust
The Highland Manor senior living center was negotiated again with a repeat client. Nursing homes have the strongest state oversight and standards of life and safety, compared to other types of senior centers. Over many years we built a strong working relationship with this particular client. In fact, they have come back to us an astounding eight times for either new buildings or expansions of existing facilities. Since our first project together, Watts has built nursing homes, assisted living centers, and independent living centers for this client throughout the Intermountain West. Success measured by the fact that the client trusts us completely to handle the costs and construction of these kinds of facilities says a lot about our expertise and how we operate.
[gallery size="full" ids="143,142,140,141"]
…Back
- 53 beds
- Downtown location
- Adjacent operating nursing home
Creative Contractor-Led Solutions
A bid-negotiated project with an out-of-town client, this 27,000 square foot nursing facility, Seasons Health & Rehabilitation, is located in the heart of St. George. This mid-town location presented multiple challenges with existing infrastructure, including engineering demands and some unexpected issues with power and other utilities. We negotiated with a neighboring HOA over some drainage problems, and settled an issue with a neighboring property owner over shared privacy walls. By recommending and employing different construction techniques, we were able to overcome some very serious drainage, elevation, and infrastructure issues. In every case, however, Watts remained true to character and stepped up beyond what is considered normal scope. These extra efforts made the project more challenging, but seeing the completion of this beautiful nursing home made it all worthwhile.
[gallery size="full" ids="147,149,146,148"]
…Back
- 221,000 sq.ft. - both projects
- First development of the northern interchange
- Fast track construction on multiple structures
A Proud History
Washington County history shows the positive economic impacts that have happened here – such as advances in air conditioning and transportation – to significant retail locations like the Zion Factory Stores. As those advances continue, Watts Construction is proud of the contributions we have made and will continue to make in the future. The Zion Factory Stores and Promenade represented a multi-year, multi-project design build on both sides of River Road. Watts completed the shell for the developer, plus the interior improvements on most of the complex, including names like Old Navy, Big 5, and Staples. In addition, buildings on separate pad sites were completed for Chili's, Red Lobster and Starbucks. These projects were the first major private developments to the Boulevard Interchange, starting in 1987.
[gallery size="full" ids="355,155,154,153"]
…Back
- 23,000 sq.ft. retail
- 20,000 sq.ft. office
- 6 month duration
A Crucial Crossroads
Dinosaur Crossing was one of the larger retail/office projects completed in Washington County during the boom of 2004-2007, and was yet another design build project with out of town clients. Our extensive experience in office/retail construction helped our clients create new development tools to smooth the transition between shell construction, tenant improvement, and completion. Once again, we were engaged from the early stages of area development because Dinosaur Crossing is located on what is now a well-travelled intersection filled with large commercial, mixed retail and office space. These factors make Dinosaur Crossing an interesting and crucial intersection of economic activity.
[gallery size="full" ids="161,159,158,160"]
…Back
- 48,000 sq. ft.
- ICE Block
- Geothermal
Distinctive Design Build
The South Bluff Center is unlike any private commercial building in the county. The architect was selected by the owner, and the project demanded extensive builder/designer collaboration. The exterior consists of 100% insulated concrete forms called ICE Block – rarely used in commercial applications. This reduces energy costs by about 80%, but adds many structural challenges with concrete and steel configurations. The design includes a ground source heat pump with a chiller system. The interiors are Triple A office space, requiring expensive, high-end finishes. The interior design was every bit as unique as the exterior, lending to the distinctive nature of the entire building. "I interviewed a half dozen builders and felt like Watts really listened to what my vision of the building would be," said owner Chad Chiniquy. "Everything was meticulously planned out."
[gallery size="full" ids="164,166,167,165"]
…Back
- 10 ground up stores, 5 remodels
- 4,500 sq. ft. average
- 4 month durations
We Compete, Client Wins
After bidding and construction of initial buildings for Maverik, Watts was asked to build multiple stores across three states. These projects are very time-sensitive. The client already knows the design parameters, but due to fueling facilities, inventory delivery and other deadlines, everything must stay on schedule. Once a builder has completed one project, there may be an opportunity to do more – however, only the best are chosen. In order to land further projects, performance and scheduling must be exceptional the first time. We were very pleased with the confidence these clients placed in us to help further their expansion across the Intermountain West. We believe that confidence speaks volumes.
[gallery size="full" ids="172,173,170,171"]
…Back
- 75,444 sq. ft. - 4 story
- Fast track - 11 month schedule
- Remote location
A Comfortable Experience
This project for Hampton Inn & Suites helped Watts gain multiple inquiries from all over the Intermountain West. "I would like to thank the Watts team for a successful project that was completed on time and on budget. I was impressed with Watts' ability to coordinate sub-contractors which kept the project moving as well as their diligence in looking forward to identify any issues that may have an effect on the project. The excellent communication between the Watts team and the ownership group provided a level of comfort that allowed me to focus on opening the hotel as I knew Watts would perform according to expectations," said Dane Beck, Executive Committee Board President, Hampton Inn Suites
[gallery size="full" ids="176,179,177,178"]
…Back
- 12,858 sq. ft.
- 6 month duration
- Design build
Time to Give Back
Families from faraway places needed to stay close to their loved ones being treated at the local hospital. This is what the Jubilee Home project was all about. This design-build project represents a uniquely fulfilling collaboration between the community, the hospital, and Watts Construction. It was made possible by substantial monetary and time donations by Watts, as well as the design team and subcontractors. We don't usually toot our own horn about giving back to our community, but this was a significant, well-known project that helped us help the community that has been so good to us.
[gallery size="full" ids="182,183,184,1098"]
…Back
- Built during business operations
- 5 month duration
- Unique cantilevered portico
Repeat Customer for Life
The Cliffrose Lodge and Gardens, a boutique establishment that enjoys a prominent spot at the mouth of Zion National Park, was a design-build project with an owner-selected architect. This challenging addition was built between and against two other existing buildings, presenting some unusual and dangerous risks. A second new building was included, which required close coordination with existing landscaping and other conditions along with guests. Through collaboration, smart engineering, and stand-by emergency planning, all buildings were able to stay open during the project. The project was managed under strict seasonal scheduling guidelines and was also completed with significant savings. The momentum continued to a second project just months later with this client, and we were privileged to lead the design. Diligence and integrity makes Watts the lead collaborator on all future projects that this owner will develop.
[gallery size="full" ids="189,190,187,188"]
…Back
- 59,118 sq. ft. - 3 story
- Remote location
- Repeat customer
Unexpected Profit Boost
This three-story, 60,000 square foot Sleep Inn project was scheduled for completion in 10.5 months. However, we were able to finish 60 days early, enabling the owner to collect unanticipated revenue at higher seasonal rates. The owner was sophisticated enough to trust in our experience, leading to unparalleled collaboration and economic efficiency. This triumph led to a successful contract with another client for a Hampton Inn. As a result, the Watts name and reputation began to spread, bringing us both new and repeat customers in the hospitality industry. We are grateful that this trend continues to grow.
[gallery size="full" ids="194,193,196,195"]
…Back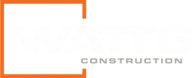 Our Services
Design Build Construction Management
Construction Management
Traditional Bid
Development Services
LEED / Green